SA

pro

Tip
Integrate Service Opportunities and Student Activities
High-impact practices don't just bolster student learning but play a key role in community relations. Service-learning courses, alternative break immersions, ongoing volunteer opportunities and days of service have all become key traditions of the modern higher education institution. There is no one way institutions organize and plan their service options: an office of service learning might be held under either Student or Academic Affairs, or perhaps be rolled up under the header of Experiential Learning, Community Engagement or Student Activities. Though the institutional structure shouldn't impact a student's ability to discover and engage with these opportunities.
Whether under the same organization umbrella or not, student activities and service can benefit from collaborating closely and co-promoting new initiatives. This kind of integrated message helps to communicate the learning value of co-curricular engagement as a whole and build a sense of civic engagement across campus. Plus, when service is treated with the same value for data assessment that has been building in student activities for decades, that data can provide an entirely new potential impact on campus.
The University of Alabama at Birmingham
Community engagement is an important part of the University of Alabama at Birmingham (UAB)'s culture. Student leadership development and community service are two closely connected concepts, co-promoted across campus. They accomplish this through both in-person experiences and how they reflect those experiences in technology.
Connect student activities and service through campus traditions
UAB ties service to student activities and student leadership development through several key strategies:
Three university-funded civic engagement organizations which support leadership development
100+ registered student organizations with targeted community causes as the heart of their organization's purpose
Individual and organizational service awards presented during the annual student excellence awards ceremony
Ongoing monthly service experiences and three annual day of service initiatives
These collaborative efforts fortify a campus culture where service is engagement and leadership, allowing UAB to attract a broader variety of community members to see the value in service.
Give activities & service shared virtual space
UAB organizes the discovery of service opportunities directly into Engage, their primary campus location for learning about any and all co-curricular engagement opportunities. Opportunities are hosted using GivePulse and browsed in a service tab on Engage using the Engage and GivePulse integration. In the 2018-19 academic year alone, more than 4,000 unique users accessed this page. The integration also documents participation in service experiences—including whether that participation was verified—on the student's co-curricular record.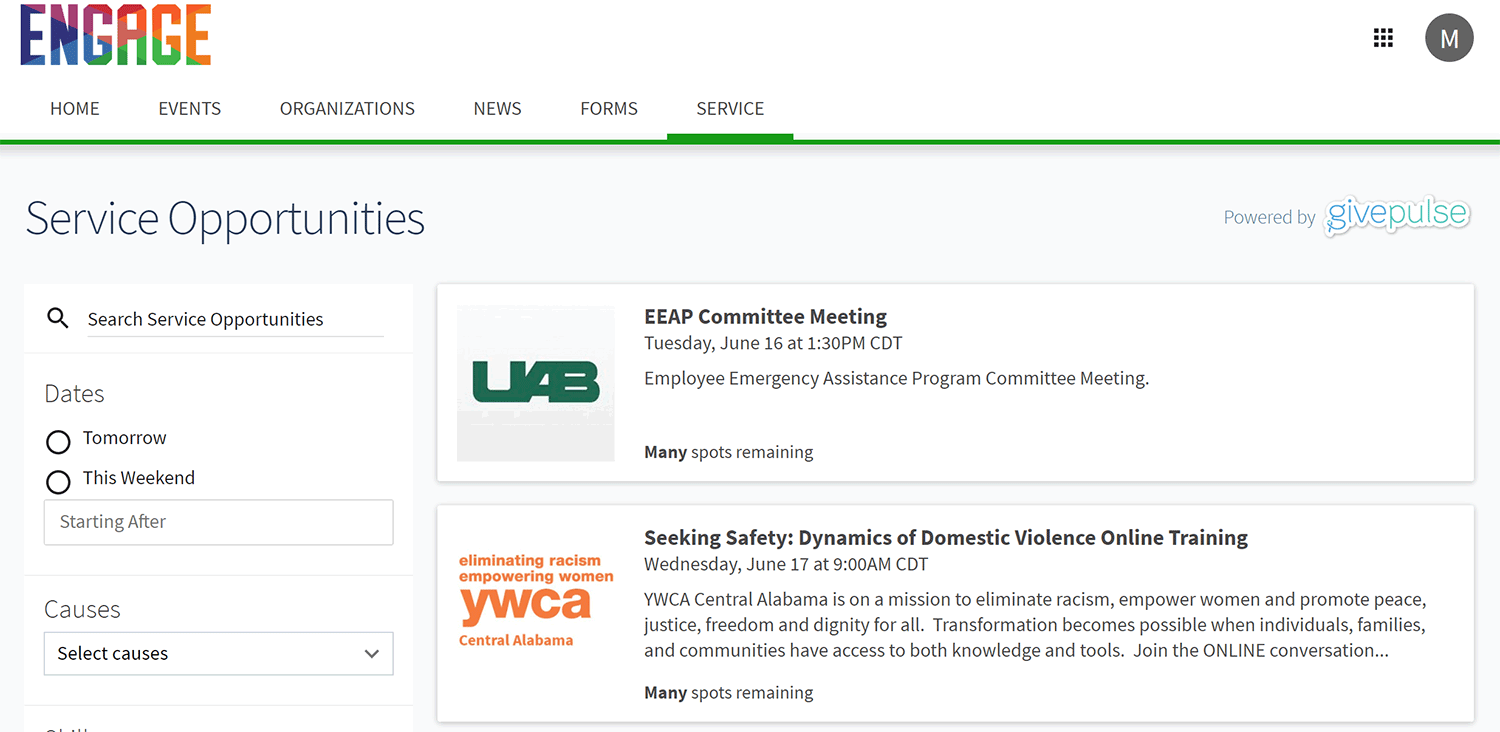 Beyond simply displaying service experiences in the same place, this tracking is important to UAB. Capturing data on service participation helps UAB to understand the impact of different initiatives and act on this information by using it to promote service experiences or guide funding. But the use of data doesn't stop there—it helps UAB apply for grants and awards, contributes to the overall messaging about UAB's community impact and sustains a service-driven culture at UAB that encourages broader staff and student participation on community initiatives.
In short, giving UAB service opportunities visibility in the context of broader student engagement options online not only makes them more discoverable, it also helps the campus to collect valuable data that contributes to their overall mission and success.
Interested in learning more?
We partnered with Lauren Hobbs Cotant, Assistant Director for Leadership & Service at UAB, shortly after their GivePulse implementation to break down the many options for tracking service in Engage. We talk more about her recommended strategies for tracking service and implementing GivePulse in this webinar:

Plus: