SA

pro

Tip
Guiding Students through Leadership Opportunities
Whether it's the Social Change Model, Leadership Competencies or something unique, many college campuses have identified a theory that guides their student leadership programming. Using a theory allows the campus to more effectively map activities to learning outcomes that are later measured over the course of the program. Though this has clear value for assessment, it is also a strong curriculum practice in general when exposed to the student. Revealing a pathway of events and how they map to specific on-campus experiences allows students to make more strategic choices in their co-curricular engagement and better realize the impact of each individual event. As a result, student leadership development is among the most common themes of pathways created in Engage.
These paths typically provide an overarching framework for the program with flexible methods for reaching the path's goals, sometimes incorporating programs offered by other departments across campus. This article highlights the models of leadership development-oriented pathways that have shown success.
Emerging Leaders Program at Indian River State College
This certificate program was award winner of the 2017 Florida Campus Compact and the 2017 Association of Florida Colleges Student Development Commission Conference. The Emerging Leaders Program at Indian River State College is designed to help students connect, lead and get involved across campus, helping them go beyond the ordinary college experience to step out of their comfort zones and connect to new opportunities. This Path has a specific curriculum laid out for students and those who complete the program earn a special leadership pin and medallion to wear at graduation.
This path begins with a pre-leadership assessment and ends with a post-leadership assessment to collect qualitative data about how the program impacts the students' experience and leadership capacity. In between the assessments, the curriculum is divided across four domains: Leadership Development, Education, Civic Engagement, and Leadership Perspective. Domains incorporate a variety of events and reflective assignments. The Emerging Leaders Program is carefully organized to reinforce student learning throughout the entire duration of the program.

Certified Leader Program (CLP) at University of New Haven
Administrators launched this path over the course of a summer alongside their launch of the Event Check-in App for attendance tracking. The path guides students through a variety of experiences on and off campus using the framework of their six defined leadership competencies. Students can earn a certificate for individual competency completion but can also earn rewards for completing the entire program. Organizing involvement opportunities in this way has led to increased attendance at a variety of campus events, such as the university's Safe Zone Program, now aligned with campus outcomes. The full path is designed to take multiple years to complete and was carefully designed for easy administrative transition from year to year, primarily using event categories to tag path items.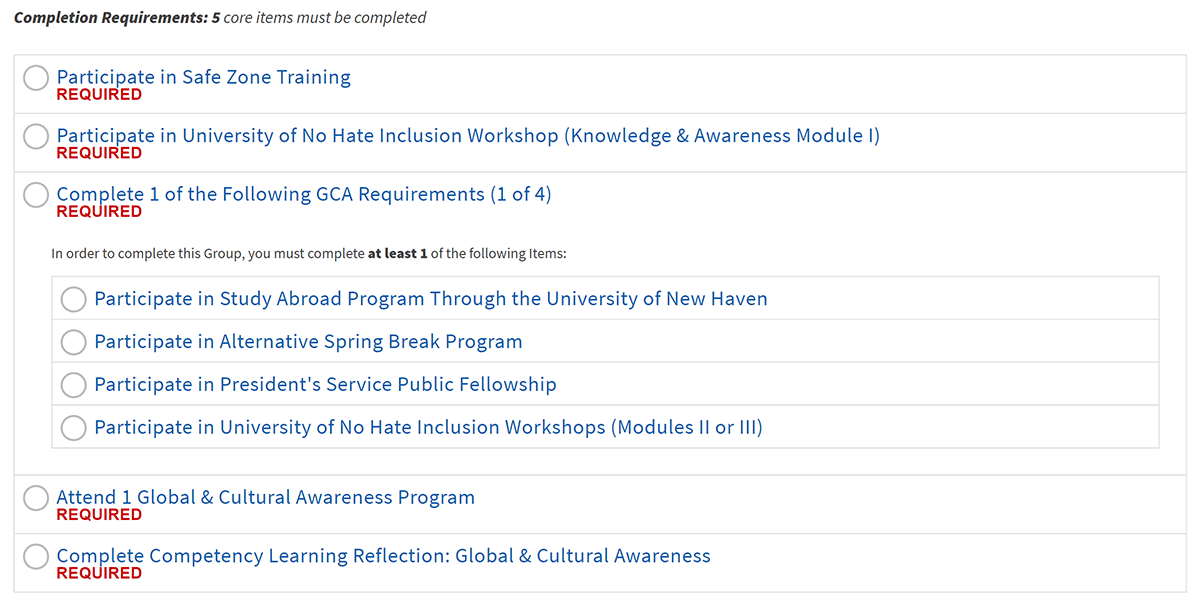 University of New Haven crafted this path specifically with assessment in mind, ensuring they could integrate data from many departments and prioritize reflections throughout the Path experience. Each year, New Haven tweaks the path's content to reflect their assessment findings from previous years of the program. At the end of each domain, students are required to submit a Competency Learning Reflection based specifically on the competency area. Using the configurable reflection tool within Self-Reported Experiences, administrators ask for information about what students learned from specific items. We especially love New Haven's practice of asking the question, "What was the most impactful activity in this certificate?" Receiving this information from students helps inform how they structure the path and which items to replicate or remove going forward.
Interested in learning more?