SA

pro

Tip
Track Learning During Organization Registration
While most campuses mandate that organizations re-register at least once a year to maintain status and eligibility for university funding, this is often a process of simply submitting updated paperwork and perhaps confirming organization officer eligibility. However, a growing number of campuses have recognized organization registration as an opportunity to revisit organization officer training and even confirm learning from that training during the registration process.
We conducted a survey in 2019 reaching over 150 campuses and learned some interesting trends in organization registration:
80% of campuses reported officers had to undergo at least one training for their organization's registration to be approved.
58% of campuses required organization officers to retake the same training in subsequent years in their position.
17% of campuses required organization officers to take a different training in subsequent years in their position.
With the majority of campuses requiring officer training to be completed prior to approving registration, how do we close the loop and ensure that training is successful? University of South Carolina found a solution: quizzing students on their comprehension of student organization policy directly within the registration process.
University of South Carolina
Serving over 500 student organizations, it was important for the University of South Carolina (UofSC) to create an organization registration process that maximized efficiency while creating opportunity for student affairs professionals to provide key developmental learning opportunities for their students. The UofSC Leadership and Service Center designed several key updates to their process to better meet their goals.
Aligning the Registration Timeline
UofSC's organizations are split into smaller subgroups with different registration timelines, relieving their Leadership and Service Center from a high simultaneous influx. For example, fraternities and sororities re-register in January alongside the end of the recruitment period, when officers are more likely able to enter accurate roster information. Using Engage, organizations only see the prompt to re-register when their own organization type is due.

Taking Training Digital
Still, the campus was spending 60+ hours a semester creating and facilitating officer trainings—a major drain on their staff resources. Over the course of several years, the campus was able to cut that down to just 10 hours including all review. Today, organization officer training is an entirely online process using standardized videos. The Leadership and Service Center was very intentional about executing such a large change. Their content creation was informed by research on how Generation Z learns, requested topics from campus partners and data on frequent areas of confusion.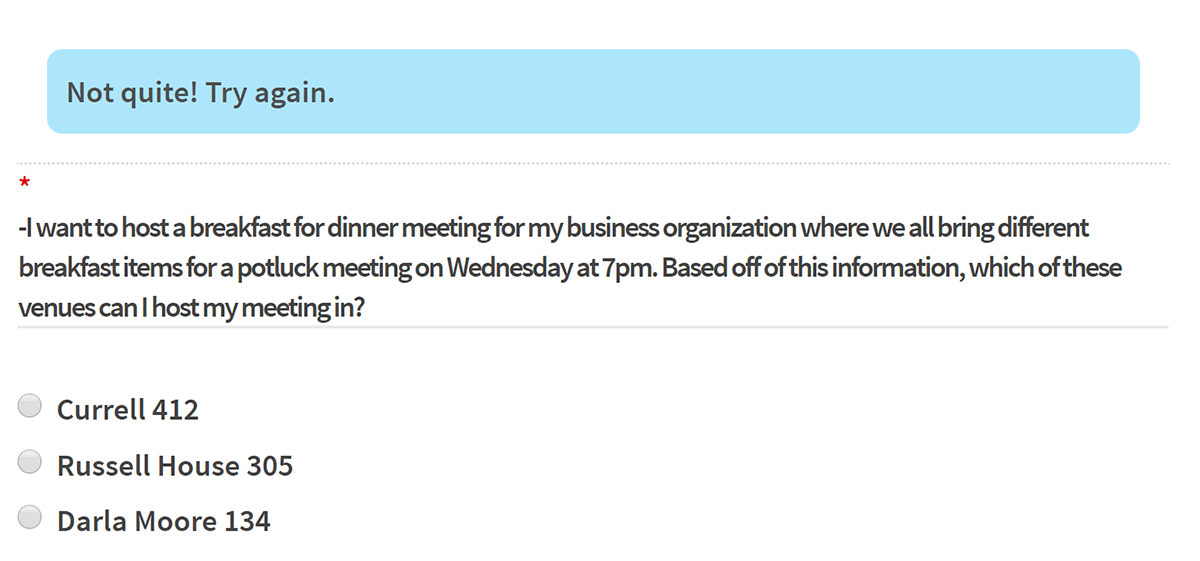 The video educational modules are shared directly within the campus' Engage registration process. Each video is followed by several quiz questions. UofSC configured the form with skip logic to inform students if they get the answer wrong and offers them a second opportunity. After a registration is approved, Engage transfers primary ownership of an organization to the registration submitter. This means completing the registration process and associated training isn't just checking a box from the student's point of view—if they're not already an organization officer, it is also what hands them the "keys" to hold control over their organization.
Discovering New Data
UofSC's quiz method also gave the campus new data about the topics students struggled with. Now, the campus can understand what questions students aren't answering correctly on their first try and use this data to improve future training modules. For example, in 2019 UofSC learned that students generally could recall information about event risk factors and percent sale rules but had less of a grasp on the university insurance policy and hazing activities.
Interested in learning more?