SA

pro

Tip
Creating Incentive Programs to Drive Event Attendance & Data Tracking
You already know how important co-curricular activities are to your students' development and success. You create opportunity for students to imagine and host their dream events on your campus, and you likely host and manage several your events, specifically designed for maximizing both student satisfaction and student learning. The next step is to develop reliable information about what events students are actually attending – and of course, to help them find the types of events that are going to be most impactful on their experience. This is the story of how two campuses explored unique yet related strategies for gamifying event attendance at their institution by assigning events with varying point values.
For the University of New Haven, this process is driven through student organizations and managed overall by the campus' Undergraduate Student Government Association. In contrast, Wake Forest organizes its program directly through the Office of Student Engagement and appeals primarily to the general student body. Both programs have been successful in both increasing student attendance at co-curricular events overall and providing their campuses with more valuable data about the student experience.
The University of New Haven Points Program
At this campus, the Undergraduate Student Government Association (USGA) requires all registered student organizations to use the Campus Labs Engage Event Check-in App to report attendance at their events. USGA has a special Points Committee populated by student leaders responsible for assigning a point value total for each student organization hosted event. Attendance is one factor in point value, but the Points Committee's point evaluation rubric also considers whether the attendees were on the roster, whether the event matched with overall USGA goals, and more.
The Incentive
In addition to the overall attendance tracking requirement, organizations are incentivized to participate through special rewards. The organizations that earn the top 20% highest of point totals across all their events will earn voting rights in USGA, a highly coveted opportunity. Points are also one of several factors considered when awarding student organization funding. As a result, student leaders are highly incentivized not only to track attendance using the app but also to take responsibility for marketing their events more thoroughly to maximize their attendance total.
The Support
To support this program on campus, the Center for Student Engagement, Leadership, and Orientation offers regular quick training opportunities on the Event Check-in App. Student Leaders realize then realize how simple and intuitive the app is to use and love watching their numbers increase in real-time as they check students into their event.
The Event Check-in App is used comprehensively across campus beginning at orientation and throughout all department and student organization events. As a result, students learn very quickly where to find their Event Pass, and attend events with it already pulled up and ready to check-in. Given this comprehensive level of adoption, the campus doesn't need to worry about ongoing training on attendance tracking for general students.
Student government uses Engage's event reports to review event details and assign point totals, which they have access to manage independently of the Center for Student Engagement, Leadership, and Orientation.
The Impact
University of New Haven can explore so much more than the sliver of involvement represented by department events. Their emphasis on training and incentivizing student organization leaders allows them to develop a more complete picture of co-curricular activities that can support student success and retention. Simultaneously, by allocating responsibility to Student Government to oversee the incentive aspects of the program, the campus relieves administrative pressure from supporting the program while also providing students with an opportunity to define the factors that could influence their organization's funding and voting rights.
Student organizations by proxy also receive more encouragement to independently market their programs, so the Center for Student Engagement, Leadership, and Orientation has much company in their campaign to showcase the value of student involvement to new students.
Wake Forest University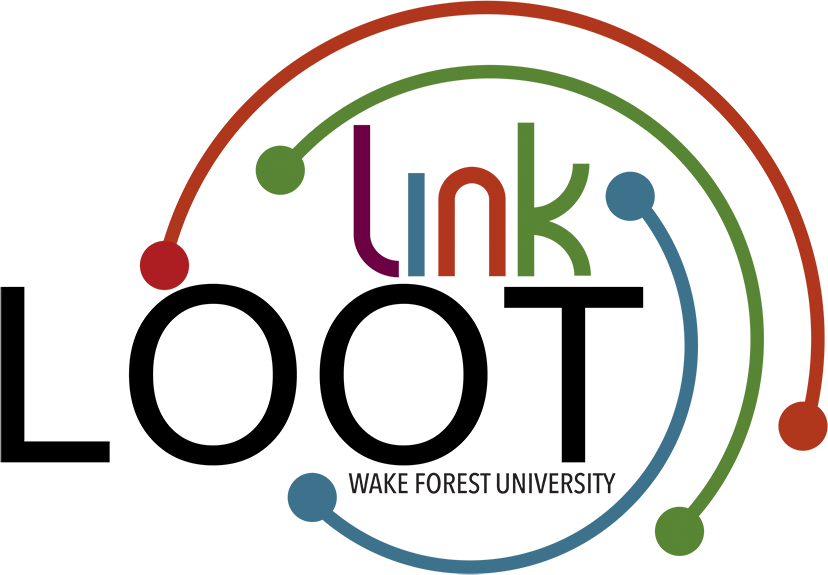 Although a similarly sized campus, Wake Forest University found a way to organize their points program without close Student Government collaboration. The "Link Loot" program is primarily advertised directly to students of Wake Forest, though organization leaders also have additional ways to benefit. Attending Link Loot events allows students to participate in a campus auction for all sorts of fun prizes. This campus also leverages the card swiping method of attendance tracking rather than the Event Check-in app, which does change some aspects of their process.
The Incentive
All Link Loot events are required to track attendance. Students earn points through each Link Loot-approved event they attend. At the end of each semester, students can cash in their points during a silent auction to earn cool rewards selected by other students. Past rewards include speakers, phone chargers, coffee pots, skateboards, weighted blankets, record players, hammocks, headphones, cameras, drones, Fitbits, ukuleles, and more. Prizes are displayed as part of the semester's Late Night Breakfast during finals (during the fall) or a final major live auction event (during the spring) with ongoing opportunity to bid on items throughout the evening.
If an organization hosts four or more eligible events, the Office of Student Engagement buys them a personal card-swiping device so that they do not need to rent hardware from their primary office. Each semester, every organization that hosts at least one Link Loot event is entered into a raffle to win a tablecloth or other branded item for their organization.
The Support
Event hosts can apply to have their event considered for the Link Loot program directly within the Engage event submission process. The Office of Student Engagement uses a rubric to assign each event with a point total using the details included in the event submission form. The rubric considers the following factors:
Expected event impact
Alignment with campus' Strategic Directions
Event frequency
Number of competencies addressed by the event
Positioning within the department's "Leadership Pyramid" (degree or depth of learning taking place at the event)
This campus even created a specially calculated spreadsheet to convert Engage attendance reports into everyone's point totals based on the number and types of Link Loot events they had attended. Point totals do not carry over between semesters, so this process starts fresh each term.
The Impact
Over the past three years of administering this program, Wake Forest has increased the total number of eligible Link Loot approved events by 553% and the total number of participating students by 572%. In Fall 2019, 4,998 students attended at least one Link Loot event – that's 96% of their total student body attending events the campus has recognized with legitimate learning value. Link Loot events are so well attended, student organization leaders are eager to have their events considered, which means they are thinking more critically about the learning value and alignment of their event from the moment they submit it to Engage. Students also care deeply about having their attendance tracked at the event to enable their later rewards, so both event hosts and students are incentivized to make sure attendance is tracked at the event. By comparing their event process data to attendance data, Wake Forest can even identify the groups of students who are accessing specific forms of learning, and through comparison, those who are not.
Next Steps
University of New Haven and Wake Forest University's programs both saw great improvements in event attendance on campus while also amassing additional data to inform more strategic and learning-driven decision making on campus. However, their approaches were unique – there's not just one way to accomplish these goals. As you consider your potential event incentive program, explore your own campus' assets. The USGA at University of New Haven already has such a powerful presence on campus that they were an obvious asset to ensuring the program's success, while Wake Forest's existing learning models laid down a perfect framework for organizing event point allotment. Start with the resources your campus already has and build your program from there!