SA

pro

Tip
Coach At-Risk and Opportunity Students Using Guided Pathways
College is an exciting experience full of many open doors and opportunities. For some students, these options can be a little overwhelming to navigate. TRiO offices, McNair programs, Multicultural Centers, and Academic Advising offices often take the lead on mentoring overwhelmed students through their college experience. An increasing number of campuses are taking a hybrid approach to their mentorship model for their identified at-risk populations, an especially helpful strategy when students are disengaged, living remotely or otherwise challenging to reach.
Creating a co-curricular path that mirrors your campus' advising model or mentorship program allows students to monitor their own progress through the key experiences you have defined and understand them in the context of a broader progression. Co-curricular paths also allow administrators to monitor a student's progress and more effectively identify when a student might need more direct intervention outside of the classroom.
What retention and success risk really means and how it is best managed can vary widely by institution, especially based on the location, institution size, existing resources and student demographics. In this article, we profile two very different institutions to better understand their success models.
Tyler Junior College
As a two-year campus with an enrollment just over 12,000 students, the Academic Success Coaches at Tyler Junior College are tasked with supporting the retention and success of students with dramatically different backgrounds and needs—traditional models of student success based on four-year universities do not always apply for these students. To organize these efforts, administrators created a co-curricular path in Engage specifically for students identified with additional need for support.
The path walks students through seven domains:
Study Strategies
Goal Planning
Time Management
Motivation Identification
Healthy Habits
Financial Literacy
Academic Success Coach Meetings
Given that many students at Tyler Junior College may commute long distances, work a full-time job, or have families to support, it is important for the path to be as flexible as possible. Therefore, each domain in the path offers multiple options for completion. These items highlight current college resources, events and workshops that to help remove barriers that might interfere with their academic success.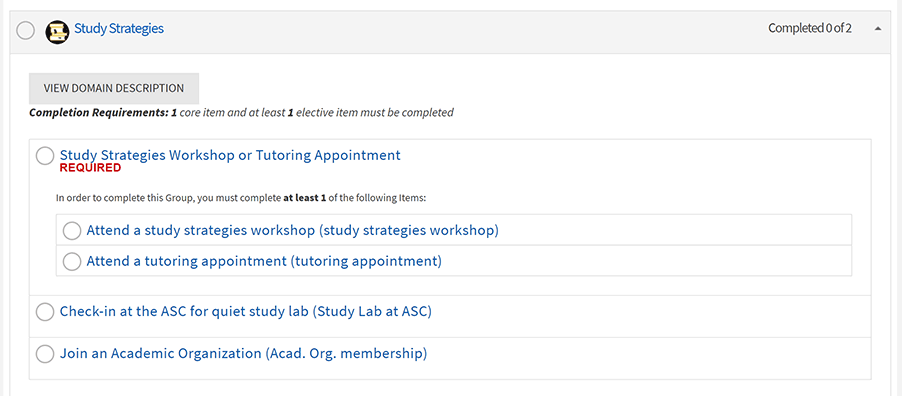 This doesn't end with a student simply choosing which event in a series to attend; students can also determine how they want to meet a specific objective. For those coming into college with advanced prior experience, this is an especially important reflection of adult learning principles—adults need to "own" their educational pathway and self-assess their needs in order to feel bought into the process. Students are also supported by a success coach, who meets regularly with the student for further guidance and direction. While still in early stages, the path is continuing to grow and develop to meet the needs of the diverse student body at Tyler Junior College.
University of Kentucky
As a four-year campus with an enrollment of close to 30,000 students, the University of Kentucky created the "Wildcat Way" for opportunity first-year students, identified on the basis of grades, lower involvement levels or reports of concern. The program itself grew from the university's weekly retention meetings, a group incorporating Student Organizations & Activities, Advising Support, Analytics & Strategic Decision Making and other departments.

The path itself walks students through 16 identified, important first year tasks, but rewards students with a free t-shirt and encouragement to keep going after just five are completed. The path's progress is monitored by administrators, but participants are also paired with a team of upperclassmen Involvement Advisors that can personally reach out to students not progressing.
Rather than closely enforcing each item like some other paths in Engage, this path is completely self-guiding, allowing students to personally check off items such as:
Connect with an Academic Coach
Meet with a faculty or staff member to discuss your goals
Attend a wellness event
Visit a tutoring location
In their pilot semester, over 96% of students completed at least one of the items in the path. Administrators are also able to carefully review which domains of the path were often not met by the students, informing their future programming and support plans for these students.
Interested in learning more?