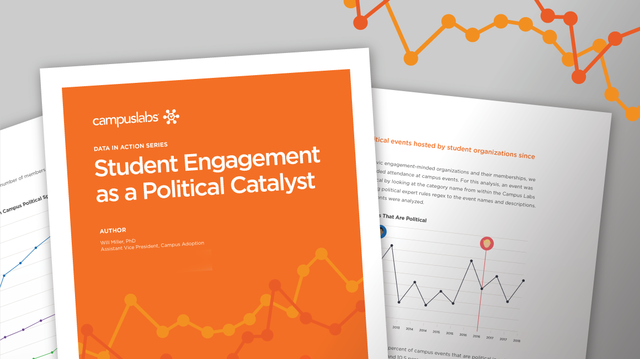 Student Engagement as a Political Catalyst: Exploring the Link Between Student Organizations and Civic Engagement
What can your student engagement data tell you about how students approach civic engagement on campus? For this paper, Campus Labs aggregated student organization data available through its Student Engagement platform between the Fall 2013 and Spring 2018 semesters. Data was used from 397 institutions across the country, representing 46 states. In total, 93,920 student organizations from this time period were examined.
Download the first whitepaper in our Data in Action series for a comprehensive look at how college students across the U.S. organize on campus in an effort to participate in the political process. This research answers the following questions:
What types of organizations are students creating and subsequently joining on campus?
How have student organizations and their respective memberships fluctuated over time?
What impact does overall political competitiveness in a state have on student organization memberships?
How has event attendance changed over time?