In the world of higher education, it can be challenging to explain—let alone quantify—the value that student affairs brings to a campus. That's where data comes in. No doubt many of you already track campus-wide activities to measure student involvement. But how can you be sure that students are truly engaged, as opposed to being simply involved? And how do you know if your programs and campus resources are as impactful as you intend them to be?
Back in September, we offered some insights on how to transform campus involvement into engagement. Indeed, research from studies like The National Survey of Student Engagement show how involvement can lead to engagement, thereby strengthening student learning outcomes. Engaged students tend to be more invested in their institution, earn higher grades, and have higher retention and graduation rates than their peers, including students who may seem engaged through their multiple involvements.
Key involvement metrics
Focusing on two common areas can help you ask better questions about the nature of student involvement on your campus. They can also help you showcase your engagement story:
1. Student clubs and organizations:
This is the most common involvement metric that campuses share with internal and external stakeholders. If you've ever looked on a student life website, you might have seen club and organization data promoted prominently, as in this example on the Auburn University website. Some campuses choose to break down this involvement data into different types of memberships, such as service organizations, honor societies, intramural sports, fraternities and sororities, and diversity-focused groups. This breakdown gives different stakeholders—particularly prospective or new students—a more nuanced glimpse of what kind of organizations are available. It can also highlight the areas that tend to hold the most interest for current students.
2. Campus programs and key events:
Many of you may promote events to share involvement opportunities with students, while tracking the number and type of events to validate your programming efforts. The next step is tracking attendance so you can gain insight into the reach and impact of your programming efforts. To uncover patterns based on demographics and academic interests, you can disaggregate total event attendees by gender, class year, academic major, and first-generation status. You'll then be able to illustrate for others the scope of program impact on specific groups of students
Expanding your story
Beyond student clubs, organizations, programs and events, however, there are other metrics embedded in your institution's data ecosystem, which can offer some additional insights into your student engagement story, such as:
3. Organization finances and philanthropy:
A student club's finances may not immediately strike you as a meaningful indicator of student involvement. However, studying the data on how much money was spent by a campus organization—along with what that money was used for—can yield a more complete picture of students' collective involvement. For fraternities and sororities specifically, a slightly different (though related) way to approach this metric is by highlighting organization philanthropy. By the end of the 2016 academic year, for instance, the Elon Office of Fraternity & Sorority Life recorded data reflecting two years of philanthropy efforts: 3,381 community service hours and a total of $221,704 raised for charity.
4. Service learning:
This isn't necessarily a common metric across all campuses, but it's noteworthy for those that prioritize community service as a way to develop global citizenship. Like campus programs and events, service hours can be another strong hint of engagement by demonstrating the impact outside of the campus community. Here is how SUNY Binghamton showcased this impact using an infographic: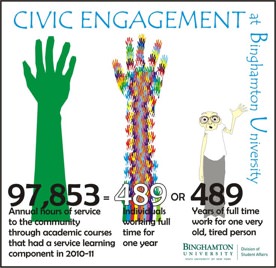 5. Civic participation on campus:
For some institutions, the final vote count in campus-wide elections serves as an indicator of students' civic engagement, particularly when we think of civic engagement as a core competency for learning. When combined with metrics for service hours and student organization philanthropy, election vote count helps paint a picture of students' investment in their community. This bodes well for the future communities they will live and work in as alumni. If you're going to the 2017 NASPA Conference in San Antonio, Texas, consider joining us for our Innovation Station session, where we'll explore trends in civic engagement on campus.
6. Co-curricular program participation and completion:
Last but not least, tracking successful completion of divisional and campus-wide co-curricular initiatives can illustrate the extent to which students are gaining competency in designated outside-the-classroom domains. For example, George Mason University tracks participation in the four pathways of their Patriot Experience Curriculum: well-being, career readiness, civic learning and engagement, and global and multicultural competency. Doing so provides students with a record of the knowledge and skills they've gained throughout their college experience, and it gives staff an aggregate way to track, understand, and share co-curricular contributions to overall student success.
Your Outcomes Can Make All the Difference
These key involvement metrics are the gateway to better understanding and sharing your engagement story. But remember, the real evidence is in the outcomes. Thus, to tell your engagement story—and not just record involvement—student affairs educators should complement some or all of the metrics above with an assessment of how students have developed as a result of participating in the opportunities presented to them.
In short, if you want to be able to tell your student engagement story, focus on a combination of key metrics (involvement opportunities and participation), clear outcomes (what students will achieve through these opportunities), and intentional assessment of those outcomes (how students have changed because of involvement opportunities). What metrics does your campus use to tell the student engagement story? Are these numbers tied to institutional learning outcomes for students?
---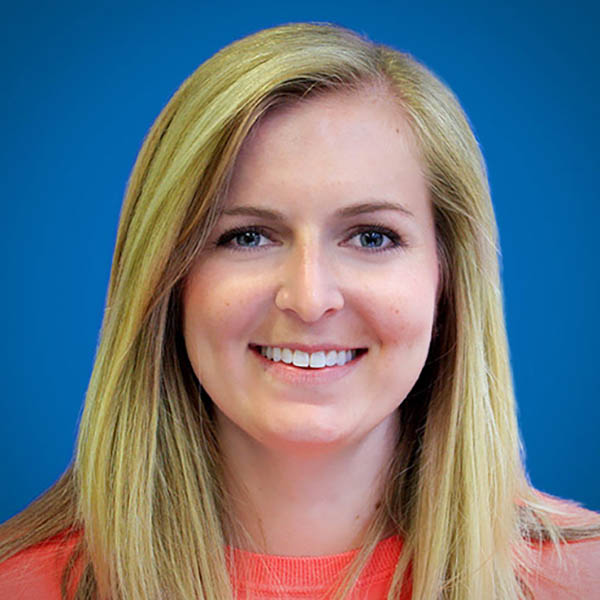 Maureen Halton
|
Before she joined Campus Labs, Maureen Halton worked as an area coordinator for residential education and communications at Sewanee: The University of the South. She has also worked at Boston College, assisting in the coordination of a division-wide student affairs assessment program and working in their student conduct office. As an intern for MIT's division of student life, she collaborated with the Senior Project Director for Assessment to implement Campus Labs assessment tools, develop learning domains for the division, and design assessment trainings for staff.