Higher education now faces a new era - confronted with an array of challenges and forces of change. Over the past couple of decades, environmental factors such as enrollment management, workforce development, technology and financial strength were top strategic issues for colleges and universities. Today, institutions are obliged to consider the coronavirus pandemic's implications, which are causing significant shifts in operations and directly impacting strategic goals, processes and culture.
In a space that has been slow to adapt historically, higher education must respond swiftly to the need and pressure for rapid transformation during this time of uncertainty. However, some leaders question whether institutions have the ability and stamina to deal with this magnitude of change. To keep pace with this continually evolving and worldwide situation, institutions will need to strengthen their capabilities by implementing organizational change management.
What is Change Management?
Change management refers to a systematic approach and the application of knowledge, tools, and resources to respond to change. It involves defining and adopting strategies, structures, procedures and technologies to retool an organization to remain relevant, responsive and effective. Furthermore, it can cultivate awareness, understanding and support as it helps people adapt to change.
Effective change management goes beyond project management and organizational development, whereas it focuses on the business practices and procedures that address the human and cultural aspects of organizational change. The main driver of change management is establishing a set of transformational processes and practices while minimizing negative results.
How does Change Management work?
Research says that approximately 70% of change initiatives fail because organizations do not engage in effective change management. The desired objectives of the effort must be fully realized to be successful. But how do you initiate a change management process? Where do you begin, and how do you ensure that the campus is implementing a successful process?
Scholars have established several models for successfully navigating through change. From relatively informal to a highly structured framework, some of the best strategies and approaches include Lewin's Change Model, Kotter's Change Management Theory, and the ADKAR Model. Regardless of the model selected, planned change might be implemented in a variety of ways, depending on the institution's needs, goals, and organizational context.
One way to begin this conversation on campus is by employing seven critical components of change management. Each component is essential for addressing strategy, operations, culture, and talent. If any component is neglected, the specified consequences will occur and jeopardize the optimal achievement of planned change.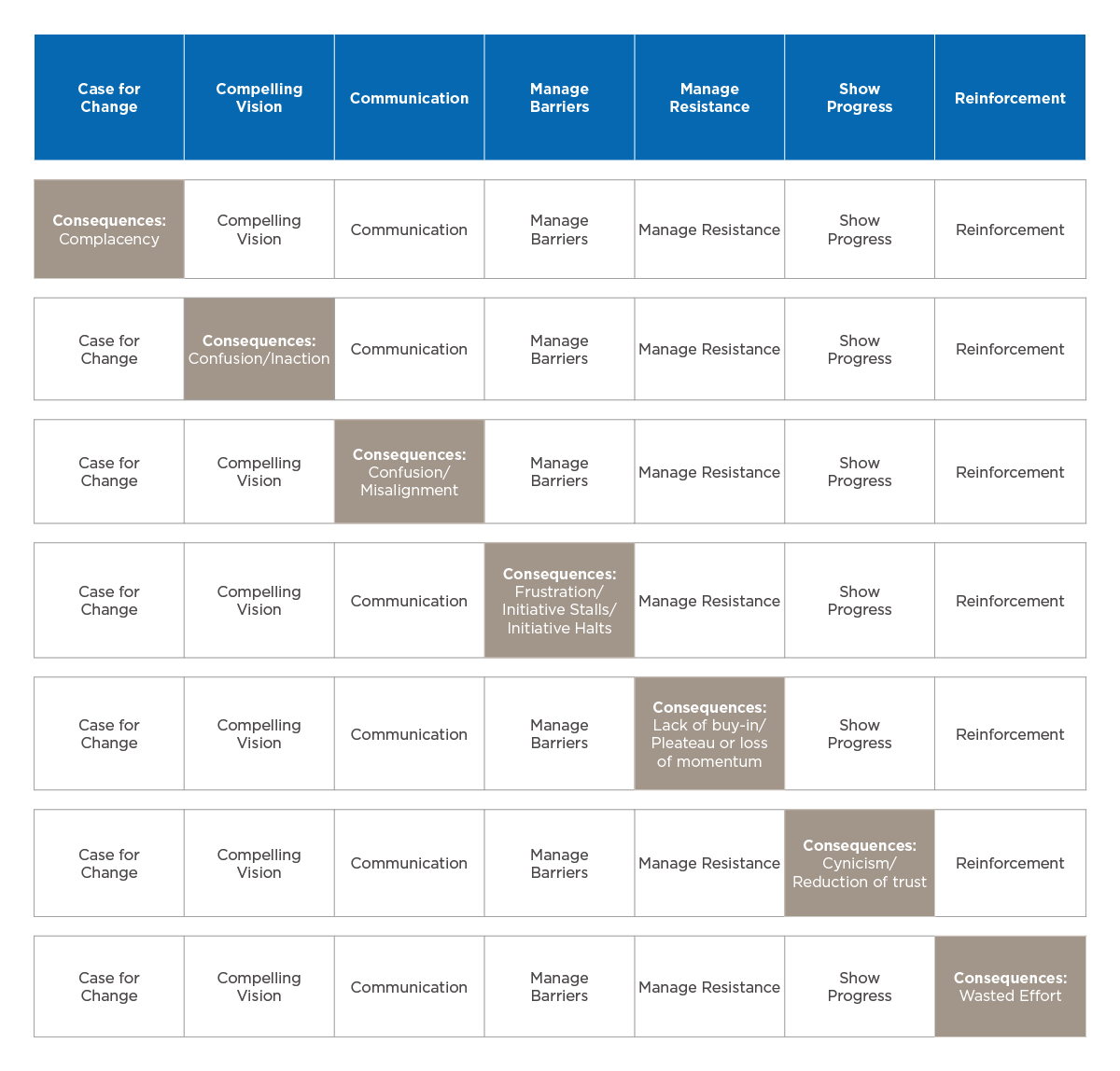 Adapted from Linkage, Inc. "Leading Change and Managing Transitions." Leading Change and Managing Transitions, 2015, pp. 8–11
Why is Change Management Important Right Now?
Today's environment is driving change at an unprecedented level. The pace of change is accelerating, requiring institutions to consider transitions to new processes regularly. As EDUCAUSE states, "The college or university that employs some means of managing strategic change, whether administrative or pedagogic, is more likely to succeed, protecting its investments in money and human capital and positioning itself strategically in an educational ecosystem where changes are becoming more frequent and more pervasive."
We are facing a new normal where the old rules do not apply. For our colleges and universities to survive and progress forward, they must employ change management strategies. These strategies will be critically important to (1) help the institutional members manage the shift; (2) align the various components of the institution – people, processes, and technology – with each other, so they direct employees' behaviors in a strategic direction; and (3) help senior leadership diagnose the existing culture and make necessary changes.
In the coming weeks, we will explore additional topics to further your understanding and application of change management in higher education. The next topic will focus on Real-Time Strategic Change – a different approach to designing the best path forward for organizational success.
Each organization has unique characteristics that can impact change management process. These organizational attributes are essential to understand so you can educate your members and address potential obstacles before implementation. Complete the Change Management Self-Assessment to assess how well your organization manages change.
---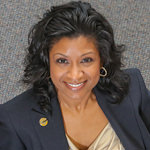 Kelli Rainey, Ed.D.
|
Kelli S. Rainey, Ed.D., provides specialized consultation for campuses eager to implement organizational strategies that ensure institutional vitality and works with campuses on strategic planning, accreditation preparation and assessment planning. With two decades of higher education experience, she has an extensive background in enrollment management, student development, and institutional effectiveness. Previous to joining Campus Labs in 2019, she provided strategic leadership in a dual role as assistant vice president for academic and student support services and chief operating officer for institutional effectiveness at Johnson C. Smith University, where she formerly served as dean of academic support services, institutional accreditation liaison, and director of the office of institutional planning, assessment, effectiveness and research. She holds a doctorate in higher education and organizational change from Benedictine University and a graduate certificate in institutional research from The Pennsylvania State University. She earned a master's degree in applied psychology with a concentration in industrial and organizational development from Fairfield University and a bachelor's degree from Lynchburg College.