One of the biggest challenges our Member Campuses face during the course evaluation process is attaining and maintaining strong response rates. Securing high rates is critical given the weight these rates often carry in promotion, tenure and hiring processes, assessment, and curriculum development.
Existing research on course evaluations runs the gamut of topics from using student feedback in tenure and promotion to measuring the validity of instruments and everything in between. And while studies on how to improve response rates most certainly exist, they appear to be more of a side component rather than the crux. This could be for several reasons, but it is important to consider the tenuous atmosphere surrounding course evaluations as a significant contributing factor. High response rates do not automatically equate with strong feedback or even a strong culture of assessment, and in my roles as a faculty member and consultant, I can see where this often gets muddled. Rather, high response rates are indicators of feedback that, if used constructively, can improve teaching and learning on campus. The data collected through course evaluations should be viewed as one way to measure student perception of the efficiency of the instructor and course.
Through research, experience and the shared expertise of team members at Campus Labs, below is a list of the top seven most effective tips for improving response rates.

Setting Aside Class Time
The most effective strategy also happens to be the easiest to implement! Just like administering paper evaluations, carve out time in class at the end of the semester to have students complete their evaluations using a cell phone, tablet, or laptop. Emphasize the strategic effort to collect student feedback by including this on the class schedule of the syllabus and announcing it to students closer to the date.

Faculty Buy-in
Working toward increasing faculty buy-in should be a consistent effort put forth year-round by both department chairs and administrators.
Department chairs:
Use department meetings to discuss the process and value of course evaluations with faculty.
Be transparent with faculty about how course evaluations feedback is used in the promotion, tenure, and hiring processes.
Use course evaluations feedback to improve the curriculum for courses in a collaborative manner among faculty.
Share recent research on course evaluations with faculty.
Monitor faculty feedback and response rates: use the opportunity to discuss with the individual instructor ways they might be able to improve, ask what support they might need or applaud their strong feedback/high response rates.
Administrative leadership:
Work with department chairs to coordinate the attendance of department meetings to discuss the process and value of course evaluations from the administrative perspective.
Monitor faculty feedback and response rates: use the opportunity to discuss with department chairs how their instructors are being evaluated and what support could be provided to more thoroughly engage in discussions on teaching and learning.

Learning Management System Integration
Working with your IT team to embed a link within your Learning Management System (LMS), such as Blackboard or Canvas, is a great way to increase visibility for the evaluation platform. Since many students are working in their LMS daily, this also helps reduce the chance they forget where and how to access their course evaluations.

Incentivizing Student Participation
A 2014 study that tracked the effect of incentives and other strategies to increase response rates by instructors showed significant results. Twenty-two percent of the instructors that participated in the study offered some type of incentive to their students for completing their evaluations, resulting in a response rate of 79%. In comparison, classes that were not incentivized resulted in a 57% response rate, which is still relatively high. This particular study assessed individual tactics and their effectiveness, and each of these applied practices all resulted in at least some increase in response rates.
Depending on your institution's preferences, providing incentives to students for completing their evaluations is another option. Offering a tangible prize (ex. bookstore gift card, free parking for a semester, iPad) to students for their participation is a clever way to elicit engagement. Individual instructors may also offer extra credit (or the option of an extra credit assignment) if all students or a certain percentage of students enrolled in a course section complete their evaluations.
For the technologically savvy, there is the option of utilizing an API to pull the data from your institution's SIS (Student Information System) into your Course Evaluations platform. An API could allow students early access to their final grades if they have submitted their evaluations by a certain date. Setting this up would involve your institution's IT team so please be sure to speak with your consultant for more information if you are interested.

Senior Sponsor Involvement
Ensuring that administrators and leadership are invested in the course evaluations process is a critical step in creating a strong culture of assessment. Senior sponsors could consider drafting an email to share with deans and faculty on the value of course evaluations for their institution along with some words of encouragement. After reports are released, task deans with identifying five instructors per department with high response rates and strong summative feedback. Share these instructors' names with the provost so they can reach out individually to the instructors to commend them on their positive feedback and reinforce the value of course evaluations.

Marketing
Depending on campus resources, consider developing a marketing plan with your marketing or communications department, or independently. Create email templates to share with students throughout the semester informing them of what the process entails, its value and upcoming dates. Other ideas include hanging up flyers around campus advertising evaluations and showcasing student feedback or displaying the link for evaluations on campus monitors. Utilizing social media is effective in terms of cost and visibility. Individual departments, colleges, or even the institution can use their social media accounts to spread the word about course evaluations.
Consider thinking outside-the-box: One of our Member Campuses had their graphic design students compete to create an evaluation "mascot" to represent and market evaluations. Another campus wrapped a campus bus with course evaluation messaging. Not only did these creative strategies help spread awareness on course evaluations, but it also involved students in a direct and engaging capacity.

Sharing How Results are Used
Securing student buy-in is equally as important as securing faculty buy-in and can often be strengthened through small changes in teaching and class structure. On the first day of class when discussing the syllabus, provide a quick description of course evaluations and its value in addition to talking about the importance of constructive student feedback (this could also be added to the course syllabus). Offer specific examples of how student feedback has been used to change something in their course (with the caveat that student feedback does not dictate what instructors do/do not do).
The bottom line is that students need to be informed about the purpose and value of course evaluation, as noted in David Carless and David Boud's article "The Development of Student Feedback Literacy: Enabling Uptake of Feedback." They argue that in order to truly enhance the feedback process, students must be more informed and included. Therefore, creating an environment truly conducive to student feedback relies heavily on transparent and consistent communication with students on the value and process of course evaluations.
---
References
Bibliographic information: James Goodman, Robert Anson & Marcia Belcheir. "The Effect of Incentives and other Instructor-driven strategies to increase online evaluation response rates." Assessment and Evaluation in Higher Education.
---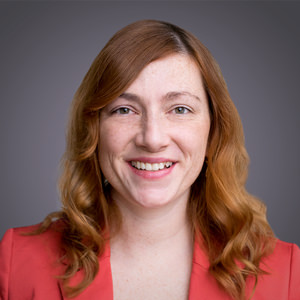 Katie Grennell
|
Katie received her PhD in American Studies from the University at Buffalo in 2016. She has worked as an adjunct in the disciplines of history, American studies and American popular music for more than 10 years, teaching a wide variety of undergraduate courses for Buffalo State College, Hilbert College, Southern New Hampshire University, SUNY Fredonia, and University at Buffalo. Additionally, Katie holds a master's degree in history from Buffalo State College and bachelor's degree in history from SUNY Fredonia. As a consultant, Katie leverages her teaching and research experiences by working primarily with Course Evaluations campuses. When she isn't talking about best practices for teaching and learning, she is likely sharing funny antics of her two young children or drinking coffee!