Recently, Campus Labs partnered with Achieving the Dream to present the 2018 Data & Analytics Summit. More than 250 representatives from two- and four-year institutions, as well as industry organizations and associations, attended to learn how to foster institutional change and improve student success by identifying and seizing opportunities to use data in more impactful ways. The decision to partner with Achieving the Dream was easy because of our aligned belief that data, when collected and used smartly, is an invaluable part of supporting students.
Creating a data-ready campus and championing whole-college reform can't happen unless we come together across campus departments to learn from each other. And with the need to break down data silos that exist in higher education, it was great to see so many different campus departments and titles represented in attendance at the Summit. Because Campus Labs partners with all departments at an institution—whether it be institutional research, academic affairs, student services, or student success—we were fortunate to have deep insights into how those in attendance interact with and can benefit from data.
Being at the Summit allowed us to share our insights into how campuses can collect and use data in beneficial ways—however, the intimate setting also provided a great opportunity to have meaningful conversations with individuals from across the country about the great work already being done on campus and how institutions try to mind the data gaps that exist when addressing student success with a collaborative approach. Throughout the Summit, we recognized several key themes that arose in both the sessions and many of our conversations—and below are five areas that stood out the most.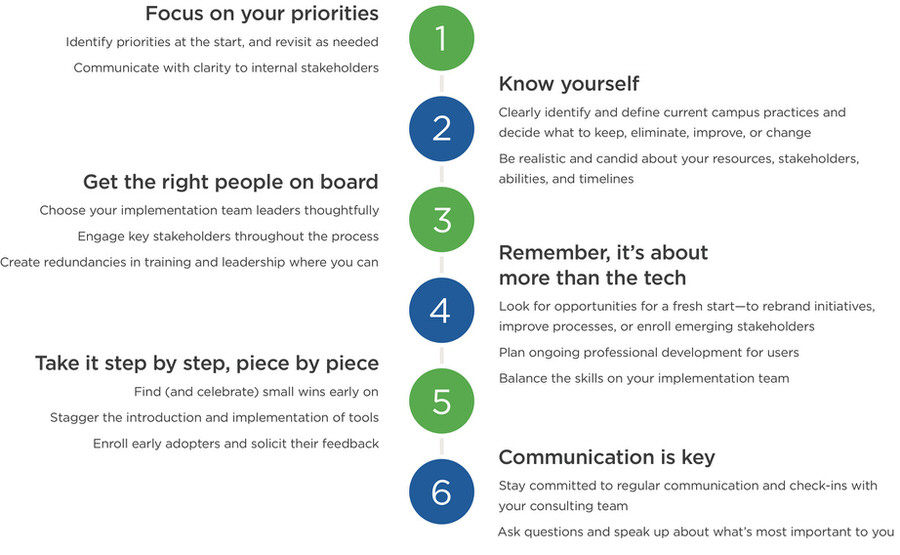 Data Governance
As institutions seek to implement systems to address a range of data needs, the issue of data governance continues to surface as a hot topic of discussion, including at the Summit. Before implementing any new campus- or department-wide data initiative, it is important to identify an institution's data capacity, including the data readiness and commitment to implementing new processes and actions that result from new data initiatives, software integrations, and enterprise systems. This includes establishing a data governance team that is inclusive of representatives from each area of campus that will be tasked with collecting, analyzing and using data. When partnering with our member campuses on data governance and embarking on new data solutions, Campus Labs highlights six key things to remember:
Text Analytics
As the theme for Campus Labs' pre-conference session, we had numerous conversations about text analytics at the Summit—including how institutions can use the often-overlooked text data that is collected on campus. Campus Labs Data Scientist, Tyler Rinker, Ph.D., recently wrote a blog post focused specifically on how institutions can benefit from using text mining, identifying several areas where data-minded professionals can start. For instance, "Course evaluations are a perfect example of a 'low hanging fruit' in higher education where text mining can provide incredibly valuable insights, as students are allowed to provide completely autonomous feedback," Rinker says in this blog post.
Supporting Different Student Populations on Campus
Several sessions at the Summit focused on how to support all student on campus, especially underrepresented and underserved populations that make up an institution's student body. It is not only essential for campuses to use data to identify these student populations, but also to build necessary programs, interventions and supports for these students as they begin and continue their educational journeys. For instance, one session identified several questions about part-time students that effective data collection and usage can help start to answer, such as, "When is it beneficial to push part-time students to take more credits? And, when is it not?"
Further, other conversations at the Summit centered on the need to be mindful of the language used to describe groups of students, as well as the programs and services designed for them—students who are not used to the vocabulary of higher education can be turned off from seeking resources simply because they don't know how to ask for certain things. As recent Campus Labs research shows, first-generation students in particular come to campus committed to academic success and engagement, but may simply not know how to find or access programs already in place aimed at helping them progress to degree completion.
Using Data for Student Success
As a primary overarching theme for the Summit, it was not surprising that using data for student success was a frequent topic of discussion. As one attendee said on Twitter, "It isn't only the creation of a data tool but building capacity and resources to help students succeed." Planning for student success starts with a careful study of the data that's being collected on campus, as well as what isn't currently being collected, and identifying what makes students successful in a campus' unique academic and non-academic environment. In this infographic, Campus Labs identified four steps to craft an actionable plan to support student success while focusing on continuous improvement, they are:
Study your data ecosystem
Define goals
Evaluate effectiveness
Improve efforts
Predictive Analytics
Another topic that came up quite often was the use of predictive analytics in student success and retention efforts. Some predictive analytics systems focus exclusively on student academic and demographic data—however Campus Labs believes that predicting success must include more than a limited dataset. It is important to tap into an expanded data set that goes beyond common variables to include non-cognitive skills, co-curricular involvement, course-based outcome measures and course enrollment data. One common theme that came up in our conversations was that institutions should find a partner to "facilitate the ethical use of data all of the way through the student life cycle," as stated in a new report from New America released the week of the Summit.
We left the Data & Analytics Summit inspired and ready to work even harder to provide valuable tools to help campuses harness the power of their data ecosystem. If you weren't able to join us this year, we hope you will plan to join us next year!
---